Eaton is dedicated to improving lives and the environment with power-management technologies that are efficient, safe, and sustainable. In the company's pursuit for high-impact innovation, it kicked off a mixed-reality global deployment using Microsoft Dynamics 365 Remote Assist and Microsoft Dynamics 365 Guides on Microsoft HoloLens 2. Not only did Eaton meet its initial goals, it also saw unexpected outcomes that have impacted the way it does business. When COVID-19 struck, Eaton doubled down on mixed-reality use and kept operations in motion.
Eaton is a global diversified industrial company with a heritage in power management. Its diverse business units include electrical, aerospace, and vehicle. Serving customers since 1911, Eaton continues to expand its expertise and portfolio of energy-efficient products and services while pursuing unique solutions using leading-edge technology to help customers remain leaders in their respective industries.
The company's continued quest for innovation led it to kick off a global deployment using Microsoft Dynamics 365 Remote Assist and Microsoft Dynamics 365 Guides on Microsoft HoloLens 2. Eaton sought to accelerate the adoption of innovative, high-impact technologies to not just make a business impact but to drive a culture change. The results were compelling.
The wheels began turning when Jason Pappas, Innovation Product Director at Eaton, connected with Alexandre Georgetti, Director of Eaton's Vehicle Group Manufacturing Strategy. Georgetti had already been researching ways to gain efficiencies within the Vehicle Group. At the end of 2018, Pappas and Georgetti decided on Microsoft's mixed-reality solutions. Eaton's IT team liked that Microsoft had a hardware platform for HoloLens, an operating system, and was starting to develop first-party applications that would work directly on the device. Eaton could easily incorporate the technology into its existing Microsoft Office 365 and Microsoft Teams setups.
Solving problems by collaborating with Dynamics 365 Remote Assist on HoloLens 2
In early 2019, Eaton purchased an initial set of HoloLens devices. By the fall of the same year, Eaton upgraded to HoloLens 2, expanded the program, and deployed Dynamics 365 Remote Assist to all 20-plus Vehicle Group sites.
The staff at the São José dos Campos (SJC) plant in southeast Brazil, where it manufactures engine valves for passenger cars and commercial vehicles, achieved cost-avoidance and time savings while troubleshooting an Italian-built machine. SJC connected to the team in Italy via Dynamics 365 Remote Assist and demonstrated the problem in real time. Using Dynamics 365 Remote Assist on HoloLens 2 brought the issues to life; the engineers in Italy could see what was happening and quickly diagnose it using mixed-reality 3D annotations. The easy collaboration helped SJC avoid equipment downtime and travel costs, helping to erase any doubts about the benefit of mixed reality.
"When you describe a problem, imagine that we are speaking different languages," says Alexandre M. Moraes, SJC Plant Manager. "When you explain it over email or on a call, someone on the other side may not understand precisely what's happening, but when you show it in real time with the HoloLens, people understand."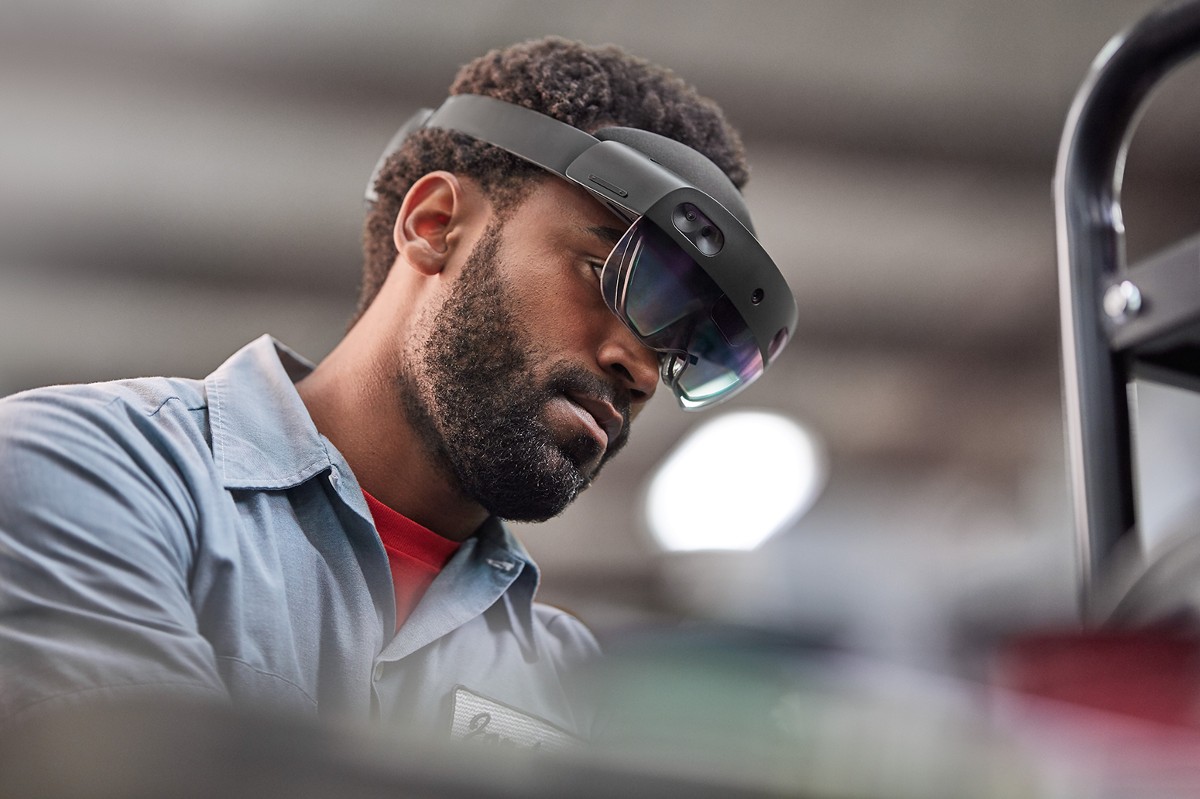 Using Guides to efficiently complete maintenance tasks
In late 2019, the Vehicle Group began using Dynamics 365 Guides for preventive maintenance checklists, digital layouts, and on-the-job training. To author, individuals didn't need specialized skills or programming capabilities. "What we found was that Microsoft Dynamics 365 Guides are so intuitive, so well designed, and so familiar that the people in the plants could create the guides themselves," says Pappas.
In central Mexico at the San Luis Potosi (SLP) plant, employees manufacture heavy- and medium-duty transmissions and heavy-duty clutches. They use Guides to train employees to conduct preventive maintenance on 1,500 pieces of equipment. SLP Plant Manager Javier Gomez commented on the ease of using Guides on HoloLens 2 to develop an application for Total Productive Maintenance (TPM) tasks on a welding system.
"The matrix hologram appears in front of you. It asks, 'Javier, do you want to start with a TPM for the welder?' I stare at the word 'Yes' to confirm. You continue until you finish the TPM checklist. The process takes five to seven minutes. It's efficient and you don't need anybody to show you what you're looking for or what it looks like. It's amazing."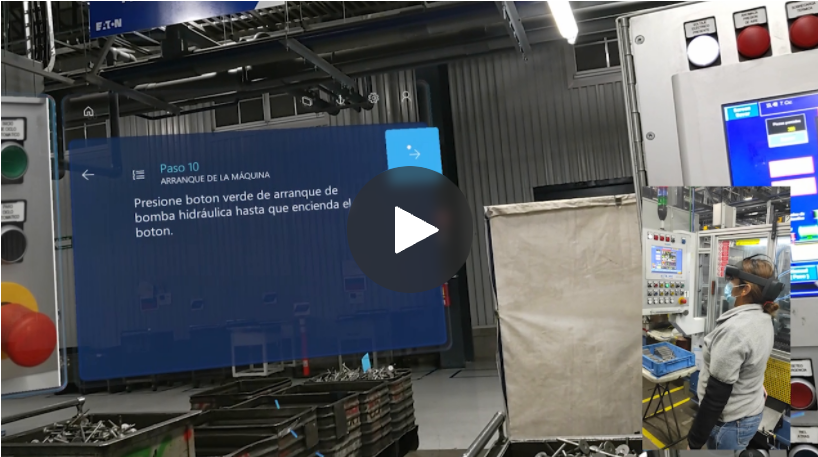 Before using mixed reality, plant employees relied on paper checklists and images to complete TPM tasks. The written steps were long, and the still images didn't always provide sufficient detail for new specialists to complete the tasks on their own. "Now, with the HoloLens 2 and the quality of the Guides applications, we can define it and avoid mistakes," says Gomez. Furthermore, SLP is starting to see significant error reduction while performing changeover by using the Guides application.
Esmeralda Castillo, Senior Systems Engineer, led the charge for creating Guides at the SLP plant. She says there was enthusiasm, but also hesitation, among employees. "Normally, we see this kind of device only in magazines or movies," she says. Once they began using the devices, the hesitation turned to excitement. She trained 10 champions (employees chosen for interest in new technologies) at SLP and developed eight Guides applications within two months. "Once you learn about the functionalities and tools," continues Castillo, "it's easy to make Guides for the HoloLens."
Enhancing employee training and new hire onboarding with simulated experiences
SLP is also using Dynamics 365 Guides and HoloLens 2 to train specialists in a simulated environment so when they step on the shop floor they've already physically experienced the line work.
The IT team's initial perception was it would be developing all the content, building the animations, and manipulating the holograms. It was a pleasant surprise to be proven wrong. "These are things that you cannot imagine from your corporate office. Not until we got out on the floor and worked with users who were using the machines daily did we understand that the people in the plants could do the work themselves," says Pappas.
Conducting remote audits and inspections anytime, anywhere
The COVID-19 pandemic brought work and travel to a standstill for many companies worldwide. However, even as restrictions were imposed, the Vehicle Group was able to double down on existing mixed-reality deployments to keep projects running.
Traditionally, auditors had to travel to plants to conduct audits. During the pandemic, the Vehicle Group has been able to complete the process remotely. Plant employees use Dynamics 365 Remote Assist on HoloLens 2 to not only walk through the audit checklist with the remote auditor, but to allow auditors to verify whether employees are social distancing and wearing personal protective equipment (PPE). Add to this the benefit of hands-free functionality when using HoloLens 2. "The auditor is in another country and may ask to see the computer you are using or to turn a page. With the HoloLens 2, you now have free hands to move and do these things," Castillo says.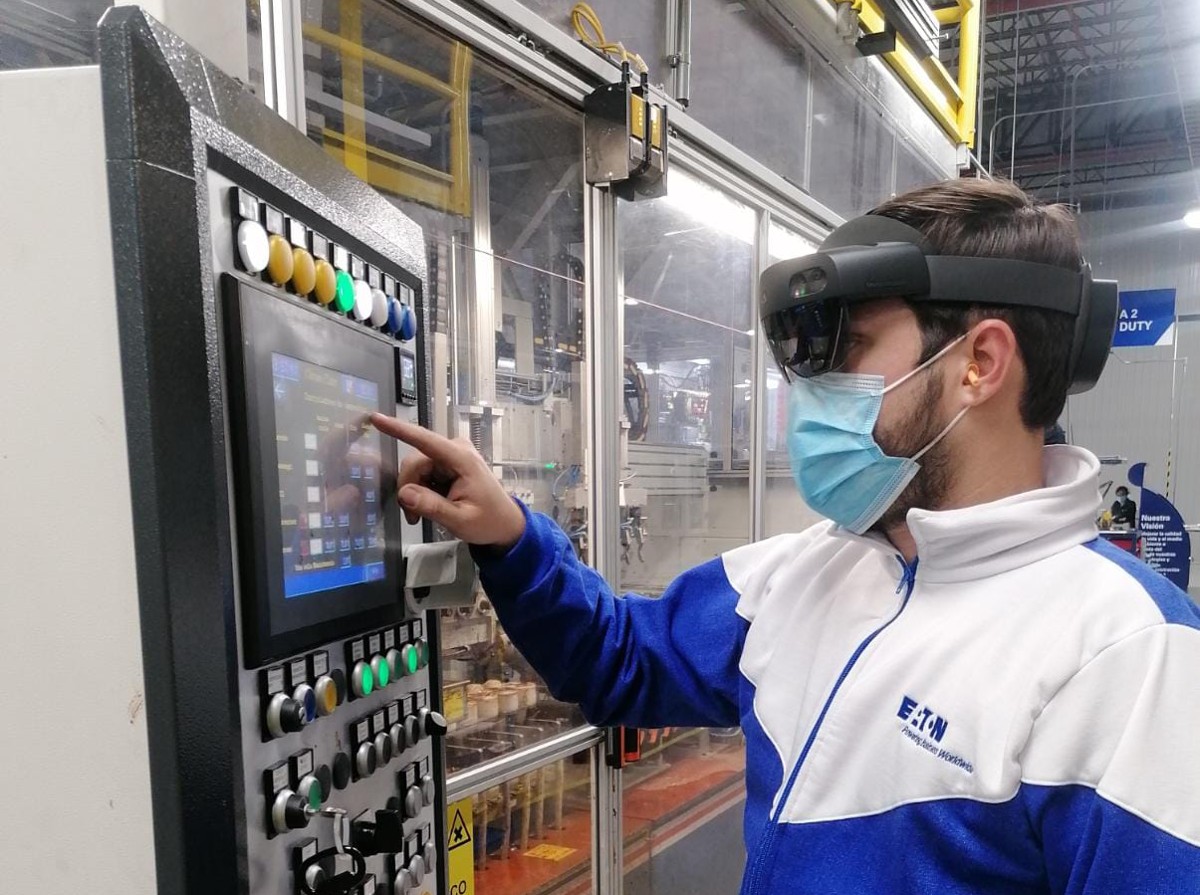 The Vehicle Group has used mixed reality to complete its first of many virtual Gemba walks. "Using Remote Assist on HoloLens, we're bringing the outside viewer perspective into the plant," says Georgetti. "Let's say they are checking a quality dimension. If someone on the call has been on another Gemba walk in another site, they can say, 'You should contact plant XYZ, because they do a similar measurement, but they're using an automated process.'"
For the Vehicle Group, 2020 was a year of learning and building the mixed-reality experience. In just three months, the group had already surpassed estimates for 2020. The group is averaging more than 50 remote sessions per month between all global sites—driving travel-related savings into the hundreds of thousands and resulting in the Vehicle Group paying off its mixed-reality investment within five months with the savings gained by Remote Assist alone. Group members are quick to note that cost savings isn't the most important measure of success.
"By solving issues quicker, you put your machine back to run in a shorter period of time and produce the products that customers need faster. You can reduce the time to develop a new product or to share best practices. For me, speed to market is even more important than the dollar value," notes Georgetti.

Navigating into the future
Pappas attributes much of Eaton's success to users who went all in. "We put the power into their hands," he says. "We weren't guessing and making them build out detailed requirements to share with us. Instead, they're building their experiences, adding their tribal knowledge into these Guides, and sharing them with the people using them daily."
Eaton is building upon its positive outcomes by expanding deployments into additional business groups and looking at new ways to work based on its learnings. Mixed reality is also playing a role during company events. Now, attendees can simply use Dynamics 365 Remote Assist on HoloLens 2 to seamlessly connect with several sites during one event. Some plants are also setting goals for their champions to create a quarterly quota of Guides. They've seen the effects of continued use: more interest in scaling to new groups and more idea generation. "Once people use the HoloLens, they start to imagine more uses and applications we can develop," adds Castillo.
Gomez would like to expand the use of Guides into the complex, non-standard maintenance work for tasks such as locating a short circuit amid 400 switches. The procedure is difficult to explain; using Guides would help remove doubts and better prepare specialists to deal with electricity.
"It was a dream come true since I was a child. The holograms and all the virtuality—I love it," says Gomez. "It is now a reality that we can enjoy and use for the sake of our organization."
Find out more about Eaton at LinkedIn, Facebook, and Twitter.