Unless you're a trained architectural engineer, it can be challenging to look at a 2D blueprint and visualize what a building will actually look like in 3D. Tokyu Construction wanted to make it easy for customers and project supervisors to clearly picture a finished building and help ensure higher quality and productivity during the construction process. The company began using Microsoft Azure Remote Rendering on HoloLens 2 devices to render buildings containing large amounts of architectural data in a sophisticated mixed reality environment. Tokyu plans to use this solution to improve quality, remove unnecessary costs, increase productivity, and stay on the leading edge of construction technology.
Urban construction
Creating large buildings from design to construction is a feat under any circumstance. But doing it in a dense urban environment next to the busiest rail line in the world requires even more expertise.
That's the specialty of Tokyu Construction, an urban general construction company in the Shibuya ward of Tokyo, Japan. The area is known as a bustling center of commerce, fashion, nightlife, and high tech. Shibuya holds one of the busiest railway stations in the world, and Tokyu Construction specializes in railway construction and architecting buildings near these busy hubs.
"To construct tall buildings set between railway stations in a very dense urban environment, we have to apply many types of technology, which we're very proud of," says Masaya Hayashi, Head of Digital Engineering Department at Tokyu Construction.
Tokyu needed to work quickly, execute with high precision, and adopt technology that could meet the needs of its global workforce. The company already used Building Information Modeling (BIM) for 3D modeling, and it wanted to continue to develop and improve its mixed reality environments. Tokyu also placed importance on avoiding costly errors as early as possible in the construction process. "Little mistakes can end up being very expensive if you have to later remove a floor or wall that you've already built," says Hayashi. "That kind of rework leads to unforeseen costs and loss of profit."
Robust mixed reality environment
Tokyu Construction decided to adopt Microsoft Azure Remote Rendering to take advantage of large amounts of architectural 3D data on site while using HoloLens 2 devices. Wearing HoloLens 2, a viewer can see detailed data such as system specifications, measurements, and building equipment, in addition to whole structures. Tokyu currently uses this solution to provide information to three groups of people: the onsite supervisors, inspectors, and customers or owners of the construction project.
"We've asked these people to try out the mixed reality technology at our pilot locations," says Tatsuya Hashiguchi, part of the Digital Engineering Department at Tokyu Construction. "The feedback has been very positive, and everyone is excited by this opportunity."
Tokyu worked with partner HoloLab, one of Japan's leading mixed reality technology companies, for support in implementing Remote Rendering. "Without Azure Remote Rendering, bringing this volume and complexity of data into a mixed reality display would not be possible," says Hayashi. "We've created a more comprehensive mixed reality environment, which leads to reduced manual tasks and quick access to more precise renderings."
Precision and productivity
Engineers and designers are accustomed to looking at 2D images and then imagining them in 3D. However, HoloLens 2 offers a powerful option for customers who have less practice. Project owners and customers can wear a HoloLens 2 device while looking out at the city to see what a planned building and process will look like in the actual location. For example, the viewer might see an overlay of blue lines, which outline the buildings of the actual city, and purple lines that represent the proposed building design.
"The future owner of the building finds it much easier to imagine what the end result will look like," says Hayashi. "With HoloLens 2 and Azure Remote Rendering, we can remove guesswork from the design review and expedite consensus."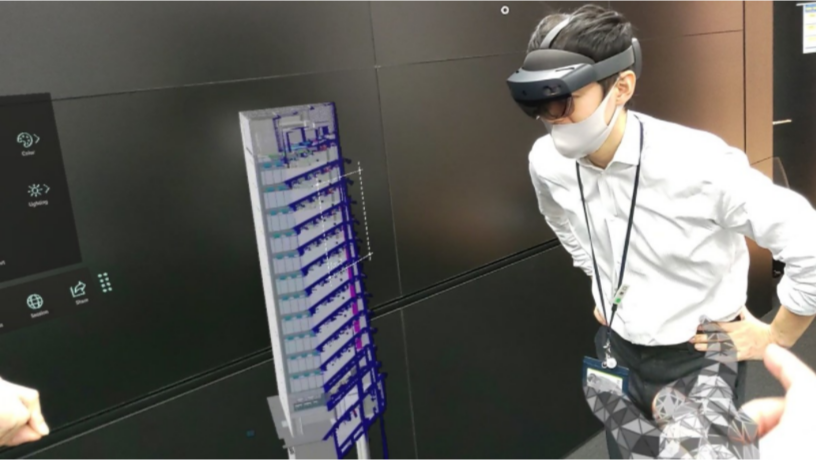 The visualization is also helpful for inspectors, who have needed to travel to visit the building sites. "Inspectors said that it would be possible for them to look at the plans and not necessarily have to travel on site carrying an armload of blueprints and checklists, which would save a lot of time," says Hashiguchi.
Eventually, the engineers at Tokyu will also use mixed reality, which will help them increase productivity in a streamlined, leading-edge work environment. Currently, engineers need to repeatedly confirm BIM models and dimensions, which takes time. "We'll eliminate extra checking by taking the BIM of an actual plan and putting it on the actual site," says Hayashi. "For construction activities, we need to manage precision within millimeters, and Azure Remote Rendering supports that. Once mixed reality is widely adopted across roles, we'll decrease costs, improve safety, and boost quality. We anticipate a 30 percent increase in future construction productivity."
Building a 3D future
To support efficiency, accuracy, and cost savings, Tokyu believes that the construction industry will undergo a significant change where eventually 2D blueprints will be a thing of the past. "Eventually, all construction plans will need to be replaced with BIM in various formats," says Hayashi. "I'm pleased with what we've achieved so far with Azure Remote Rendering, and data rendering volumes will keep increasing. Our dream with HoloLens 2 is to eventually render 3D images on site, eliminate all design and quality discrepancies."
Tokyu Construction is on a long-term journey to explore technology, transform how it builds, and increase the number of affiliates who have access to mixed reality. Concludes Hashiguchi, "By using HoloLens 2 and Azure Remote Rendering, we expect to reduce risk, minimize errors, and solve problems like never before. We'll be able to do things we never thought possible."
Find out more about Tokyu Construction on YouTube..