As ZF Group drives into the future of mobility services, one facility in the global technology company is on a fast track toward accelerating digitization in manufacturing to support the company's goals. As ZF responds to Industry 4.0 trends in the automotive industry with automated driving, e-mobility, vehicle motion control, and integrated safety solutions, its Gray Court facility in South Carolina is enacting a similar digital evolution in the workplace. That's because the 2,500 employees who build 8- and 9-speed transmissions at the facility are using Microsoft 365 cloud-based tools. Their achievements at the plant characterizes a new way of working at ZF where employees are well equipped to deliver sustainable, next-generation mobility services.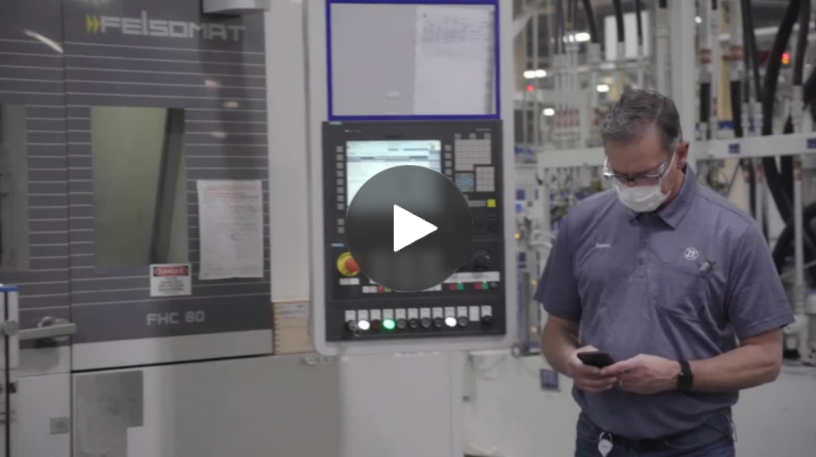 Coordinating Industry 4.0 operations at Gray Court is just one responsibility for Tobias Brugger, Director of Operations at ZF Group. When he talks about digital transformation, it's in the context of connectivity and collaboration. "A lot of our drive is to connect people with each other and with data to achieve a consistent focus on product quality," he says. "Three years ago, connecting meant collaborating on WhatsApp, but we weren't happy with its security. We began using Microsoft Teams and quickly recognized that it was more than a chat solution. When we started sharing documents and conducting Teams meetings, we began working better as unit to drive efficiency."
Adds Danny Bowers, Production Manager Machining at ZF Group, "When we first came here, it was a bit chaotic and we didn't have good communication. People on the second or third shift were not getting the communication that they needed to do their job efficiently. Now, we pretty much run our department on Teams. We have a channel for quality, and we have a channel for logistics. From my boss to the plant manager, all the way down to the team leader or the operator on the floor, everybody can see the same information. And we know that it's accurate."
Improving overall equipment efficiency—even during COVID-19
Since colleagues at Gray Court began using Teams two years ago, the plant has posted an 8 percent year-over-year improvement in operational equipment efficiency. Brugger accredits this to how employees use the collaboration platform to escalate communications on equipment downtime, to better coordinate actions on equipment maintenance, and most recently, to respond quickly to the challenges of COVID-19.
Despite an initial eight-week shutdown at Gray Court, Brugger and his team never stopped working. And it all happened on Teams. "When we shut down, there was a huge uptick in Teams usage for online meetings to figure out how we could economize on spending and work more efficiently during the health crisis," says Brugger. "Then when we started to reopen the plants, we were in continual Teams meetings with our customers and suppliers to align our capacities with their needs. We used Power BI in the communications team to track which departments were ramping up, which were in limited production, and which were in full production. We worked out how to install Plexiglass and how to reduce shifts to enforce safe distances at the plant. We had weekly meetings for frontline managers with a Power BI dashboard that displayed COVID-19 updates. We also created an additional production line to make more than 100,000 masks a week for our sister plants in North America and Mexico. I don't know how we would have accomplished any of this at the pace we did without Teams."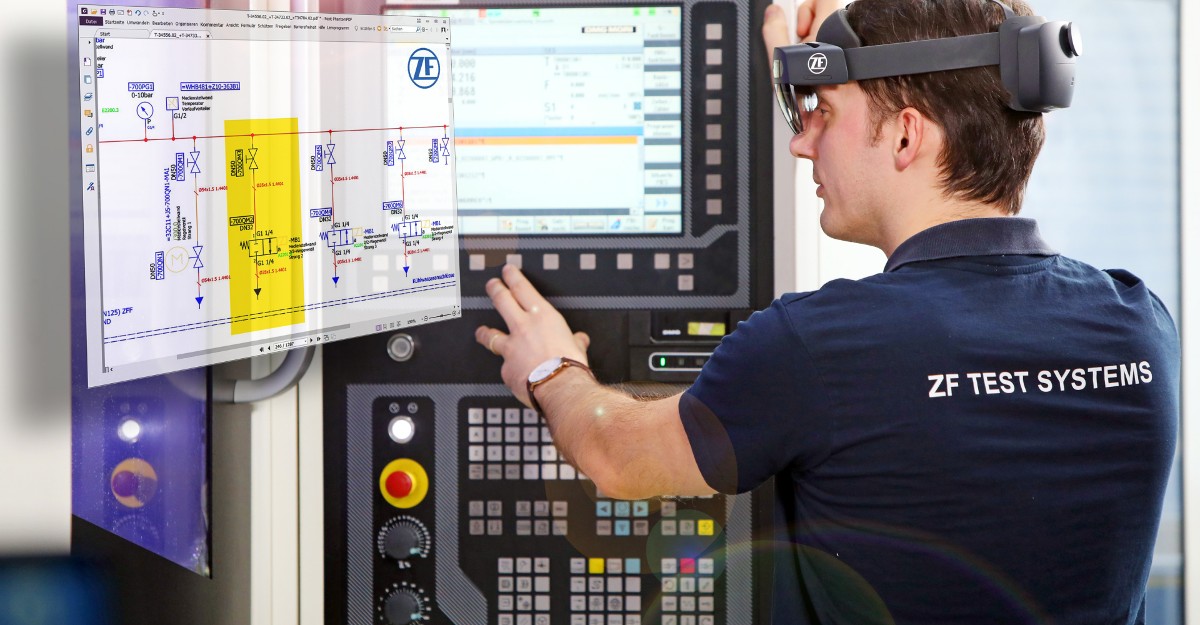 Streamlining shop floor management and overtime requests with Power Apps and Teams
Brugger and his colleagues, including top-line management, line supervisors, and frontline workers such as group leaders and setup technicians, streamline plant management through efficient online teamwork across the logistics, quality, engineering, operations, and maintenance departments at Gray Court.
"The power of Teams really shows up in shop floor management," says Brugger. "We meet with our production team daily to go over KPIs and review productivity and product quality metrics. We have a Power BI dashboard in Teams that shows red or green statuses for production and maintenance action items. We review production reports for each shift's output and send out messages to say, 'Hey, job well done.' We also review quality reports, analyze photos of parts, and discuss them in Teams if we need to react quickly when an issue arises."
And, when Gray Court frontline workers on the shop floor need to ask for overtime, they use a custom developed app called 'Overtime App' developed with the Microsoft Power App embedded in Teams to streamline the process. "The process of asking managers for overtime approval was paper-based, chaotic, and time consuming," says Dale Yon, Solution Expert at ZF Group. "Today, we use Power Apps and Teams to simplify the process and save managers a significant amount of time."
By automating what was once a manual task, Gray Court managers also gain a detailed overview of performance at the facility. "Managers are now able to pull data into a Power BI dashboard to understand what hours have been fulfilled and what hours still need to be assigned," says Yon. Beyond saving time and streamlining overtime requests, the use of Power Apps in Teams presents managers with a single, centralized location in which to do their work. "The biggest benefit of Power Apps in Teams is how it structures processes," says Yon. "People don't have to worry about searching for a response or wonder if they signed a document—it's all automated and perfectly aligned." For Samuel Rustick, Production Manager at ZF Group, the 'Overtime App' has translated to impressive time savings and allowed managers to focus on more impactful work. "I save an hour every week using the Overtime Power App in Microsoft Teams," he says. "That is time that I can now spend with my associates getting our production and our quality goals met."
Frontline workers also saved time communicating on Teams because they reduced time spent walking in the large plant. "Microsoft Teams helps us get information more quickly," says Rustick. "I have three shifts, each shift has four supervisors, and each supervisor has roughly 35 associates that work there. So, the ability to use Teams when we have issues and to get that information back upstream into the assembly cuts down walking time—the plant itself is 1.5 million square feet. I can contact my supervisors on Teams, where before I either used a radio or went to the shop floor to talk face to face."
Colleagues at Gray Court also share Excel files and use Microsoft Planner for special projects in Teams. They send emails to the team group, conduct private conversations in channels, and chat spontaneously with each other using emojis to add some fun. "The maintenance group uses Teams to stay on top of daily activities and expedite issue resolutions," says Brugger. "We maintain a washer chemical sheet and a washer clean-out schedule in Teams that shows when and what chemicals to add to the machines that clean the transmission parts before they're assembled. If the night shift notices there's a leak or someone doesn't know which chemical to add, it's easy to escalate the issue because everyone has Teams on their mobile phones and can review the incident from anywhere. All the documentation is in one place so that we can find the data we need to solve issues faster."
Fine-tuning with HoloLens
Teams and Microsoft HoloLens provide another solution to long-distance problem-solving at Gray Court. Approximately 90 percent of the facility's production equipment is made in Germany, which makes sourcing replacement parts or troubleshooting issues an international affair, including delays and even flying an engineer over from Germany.
"We sourced three HoloLens devices and now do our troubleshooting virtually," says Brugger. "A couple of months ago, we resolved a complex problem with some measurement equipment using the HoloLens and going through the machine visually, step by step. In the end, it was just a broken spring. We're also investing in new test equipment, and we would normally have sent people to Germany to learn about it. With the pandemic, that's not possible. Instead, we're using Teams and the HoloLens to replace those in-person sessions and stay within our schedules."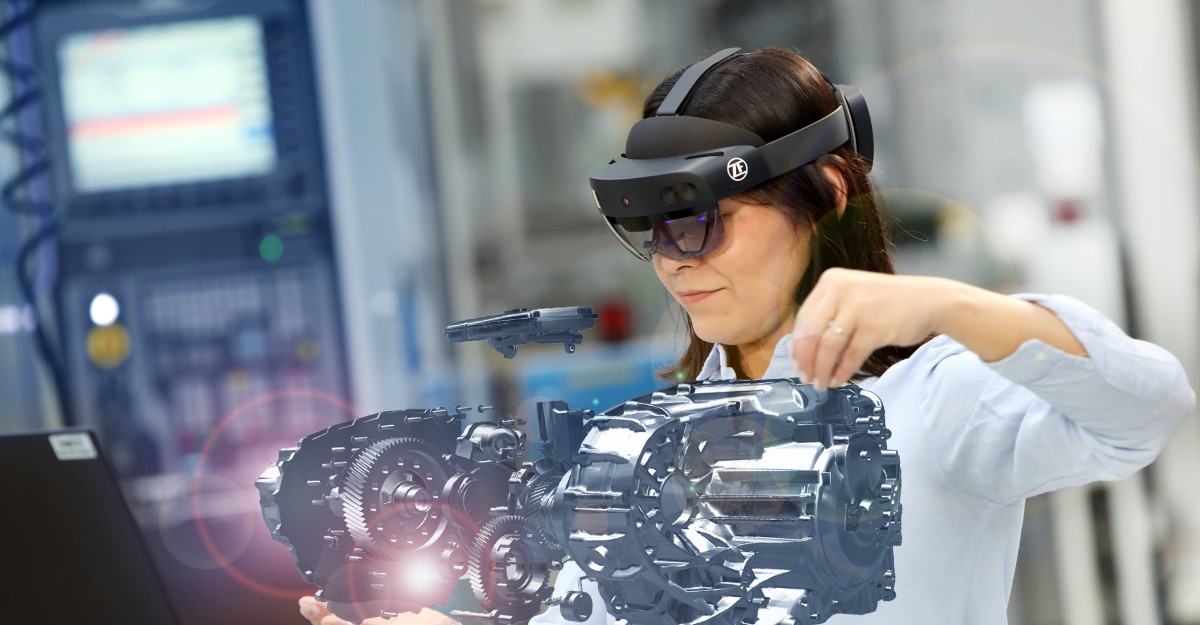 Improving product quality and reducing end-of-line rejects
Employees also use the new Microsoft 365 tools to improve product quality—one of ZF's top key performance indicators (KPIs). For example, it's very important to minimize the noise, vibration, and harshness (NVH) of transmissions to meet customers' exacting standards. "If you're buying a vehicle with a transmission from ZF, you don't want any noise or vibration while you're driving that vehicle," says Brugger. "We conduct extensive noise testing at levels way beyond the human capacity to hear. In Teams, we have a channel dedicated to NVH. If there are noise failures and it's after-hours, an NVH engineer gets notified and signs in from the Teams mobile app. They examine the photos and decide either to send the transmission back to rework or follow detailed instructions in Teams to fix the issue. Having Teams and the other Microsoft 365 tools installed on mobile devices provides a huge benefit, boosting our agility to help us solve operational issues at the plant faster than ever."
Power BI also plays a significant role in improving product quality because employees use it every day to analyze quality issues that are discovered on the test bench, which is a complex testing program. "If a product doesn't meet testing standards, it requires a recheck, instigating an investigation and a possible remake order," says Brugger. "Our goal is to reduce end-of-line rejects because they delay time-to-market and increase nonconformity costs. ZF's overall goal is to make the product correctly the first time. We share a Power BI dashboard in Teams where it's easy to see daily, short-term, and long-term trends in product quality data. Sometimes the problem is with the test system, sometimes it's due to an assembly mistake, and sometimes its due to the machining tools. We analyze the failure codes and break the data down in different ways so that we get the answers the engineers need to improve quality. Thanks to Teams and Power BI, we're observing significant improvements in end-of-line reject rates."
Reducing nonconforming parts with Power BI
Reducing the amount of scrap is a goal for every manufacturer because it reduces wasted resources and improves output. Gray Court employees turn to Power BI to provide the information they need to reduce the incidence of nonconforming parts that end up being scrapped.
"Scrap reporting in Power BI delivers drill down into individual departments over time," says Brugger. "I can tell how many parts were scrapped per day, per department, and per product family. We can even review posts from other systems that are used on the shop floor to track nonconformity of parts across Gray Court."
In the past, Brugger received an Excel-based scrap report once a week. It was difficult for him to ask his team what happened last week because no one remembered exactly or the supervisor who was on then might be off today. "With Power BI, we now have up-to-date data so we can take steps to reduce the number of nonconforming products coming off the lines, and we can react quickly, either through timely investigations or better training for machinists to prevent errors happening again."
For ZF, the experience of remote work and COVID-19 has made it clear that digitization in manufacturing can't occur without digitization in the workplace. Since employees began using Microsoft 365, a new sense of agility and productivity permeates ZF's Gray Court facility and beyond. "ZF is accelerating the adoption of Microsoft 365 to share knowledge, troubleshoot, and communicate in real time," concludes Brugger. "That's how we must work to maintain our competitive advantage in the era of Industry 4.0."